Those who already make their bets on Bet365 know it very well: Bet365 has as its trademark the huge variety of sports, championships and markets for those looking to invest in the sports market. That being said, if you're just starting in sports betting, it's a great deal to get started on this website.
Besides, the plataform has very competitive odds, although far from being the best in the betting market. So if you're looking for a site with good opportunities and tools, Bet365 can be an excellent option.
Do you want to start betting on Bet365? So check out the review we've made for you!
Create your account to bet on Bet365
Did you like our review on Bet365? So click on the button below and create your account. This way, you can follow all our analysis in real time and check all these points in practice. Here is your access to join Bet365:
What is Bet365?

Bet365 is a giant in the sports betting's world! And if you turn on the TV and put on some Premier League game right now, for example, chances are good that you'll see their ad around the field being hit by the ball.
Nowadays, Bet365 is certainly one of the biggest gambling brands worldwide. It also is undoubtedly one of the leaders among the preferences of bettors internationally.
Bet365 is known for being a betting site for users in all levels. Beginners will certainly be attracted by the welcome bonus and promotions offered. The intermediate bettor will love the experience brought by the wide variety of markets. And the professional bettor will be able to invest in very specific matches, including lower divisions.
Add all this to a very easy way to deposit or withdraw your money from the platform. It's a very attractive scenario for bettors.
Keeping that in mind, we decided to make a complete review on Bet365 and that's what we'll find in the following article. Let's start by understanding its practical operation for sports betting.
Is Bet365 trustworthy?

It wouldn't make any sense to show untrustworthy sites around here, would it? But, besides the fact that Bet365 is a very reliable site, it is also one of the brands that invests the most in security systems.
Because of that Bet365 is usually a thorn in the side of "smart gamblers". That's the name we give to those people who decide to create multiple accounts (one with their own identity, one with their wife's, with their mother-in-law's and if possible even with their dog's) in order to benefit from the welcome bonus. The system will therefore work to prevent you from breaking the rules.
On the other hand, for those who follow the Bet365 conditions correctly, this security plays in the user's favor. You'll be on a betting site with more than 20 years in the market, available in many languages and with regulations and inspections from competent entities.
So rest assured: Bet365 is indeed a trustworthy betting website. All you have to do is follow the rules and you won't have any problems using the platform. I've been using it myself for five years and have never had any problems involving my information or my money.
Is Bet365 legal?
This is a very wide question, in most countries, Bet365 is legal. But you might have to check your country's regulations and laws.
Bet365 is located in the United Kingdom. Now, this is a positive point since we are talking about one of the most rigorous countries when it comes to inspection of bookmakers. Bet365, therefore, is both regulated and legalized. You can use it without any problems to make your sport investments.
How to bet on Bet365?
First of all, we've created a short video to introduce Bet365 in general. These are important information that will help make the player feel calmer when creating his account on Bet365 and understanding the dynamics of how the platform works. Check it out:
Create your account to bet on Bet365
Bet365 is a very well-known bookmaker in the market. It also offers a wide variety of matches to bet on. Using this platform you have access to a complete streaming service.
Our complete review on Bet365
We always evaluate the bookmakers we recommend based on a few characteristics. They are:
Navigation
Bonuses and Promotions
Payment methods
Markets offered
Odds
Customer Service
Tools and Differentials
Limitation
According to a survey we carried out with thousands of bettors that follow Clube da Aposta, these are the most important and essential criteria to choose wheter to bet or not on a bookie. Keeping these factors in mind, shall we check out Bet365's results?
Navigation: Bet365 is not very user-friendly

Even though it's not a nightmare, Bet365's navigation is far from the best for beginners users. Firstly, this bookmaker decided to make its plataform entirely in flash which means the site may crash and slow down a bit.
However, Bet365's staff did some magic that provides a very stable betting system, despite not being the easiest navigation you can find. Some markets take a while to load. If your computer doesn't have good settings, it's better to get ready to practice your patience a little. Personally, I must confess that I never had any problems with its navigation.
For those who like to open pages in new tabs in their browser, here comes some bad news: the famous "right click" doesn't work on Bet365's platform. You have to click and open the pages, then return to the page you were on.
The search for matches requires a little attention
Finding matches can be something that confuses the beginner a little. Not because of its side menu that organizes sports alphabetically. In fact, you can even mark your favorites with stars so that they stand out. The same feature works for markets on the match screen.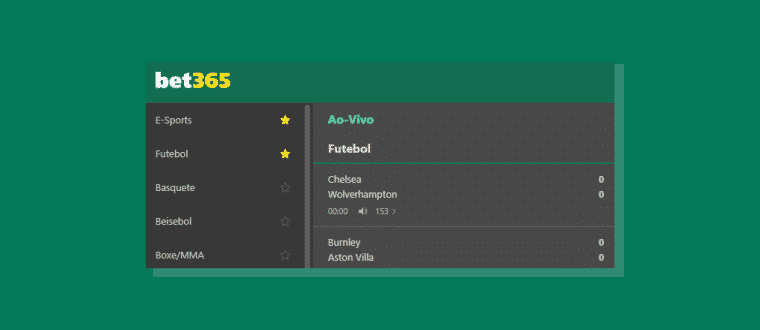 Yet, the criteria for organizing matches are not clear. Below, you can check that some of them are by continent ("The Americas" or "Europe"), but there are highlighted countries. If it was just Italy, Germany or Spain due to their relevance it'd be fine. However, there is a certain randomness.
Portuguese Primeira Liga, for example, is classified with the other Europeans. Yet countries like Australia and Denmark are isolated and highlighted. European competitions (such as Champions League and Europa League) are also isolated in "UEFA competitions".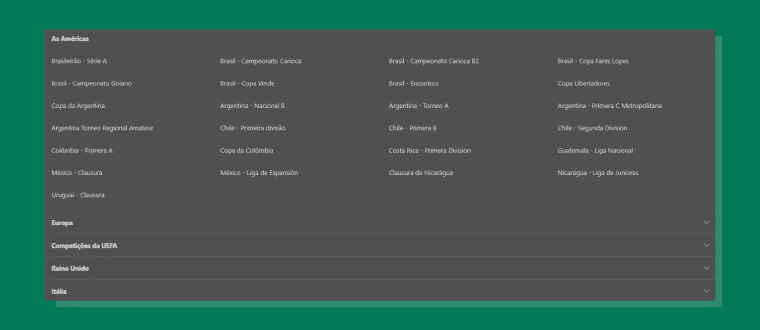 Anyway, I think this organization model is a real mess. On other betting websites, for example, the organization has some highlights as well but most of them use alphabetical order. By often using Bet365, you'll certainly get used to it, however, until then there may be some difficulty.
Mobile: it's possible to bet on Bet365 from cell phones
Its mobile platform, on the other hand, is one of the best we have in the market. It's so good that you can withdraw your money in just two clicks. The menu on the left has everything you need and the whole website is very aesthetic, using quite well the space available on the cell phone screen.
With a very busy routine including work, studies, family, friends and so on, having a good website to bet from your cell phone is interesting and we think you'll enjoy it a lot. By using this tool to bet online, we'll find some very appealing advantages, such as:
Invest in your favorite leagues at any time of the day.
You don't have to depend on your computer since cell phones are portable.
Matches and markets are the same as the ones on the computer platform.
Simple and functional layout with easy navigation using the sidebar.
Bonuses and promotions: Bet365 is generous with what it offers
Bonuses and promotions are one of Bet365's strengths which, again, is among the best in this matter. Of course there is the traditional welcome bonus for new users which is 100% of your first deposit up to $30.
Besides, Bet365 is always launching promotions. Always! All you have to do is access the menu with the account already signed in to check if there is any special offer for you. Not to mention some general opportunities we have for games e.g.:
Early Payout: if your team has a two-goal advantage, the bet is automatically considered a winning one.
Bore Draw Money Back: in some markets, you can activate the offer to get your money back if the game ends 0x0.
Accumulator Bonus: it can only be activated in multiple bets and represents the opportunity to have an increase up to 70% in odds.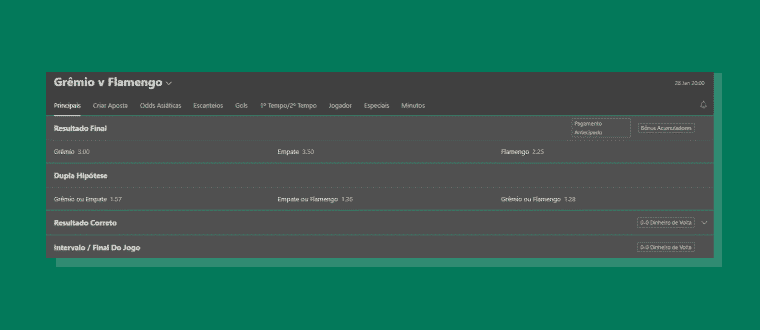 Which are the promotions offered by Bet365 to its users?
Besides the promotions we mentioned earlier (which are highlighted in the markets themselves), other specific promos can be created during major events. These "temporary bonuses" are a Bet365 trademark and are offered at major leagues or specific events. Here are some examples of competitions worth keeping an eye on because of the offers:
Olympics
UEFA Euro
Confederations Cup
World Cup
Champions League
During 2018 World Cup some really cool offers were launched, for example:
Shootout Refund: this promotion was available for the World Cup Winner market. If the chosen national team was eliminated on shootout, the money invested would be refunded.
Thus it's important to always check your email so you don't miss out opportunities like these.
How does rollover work on Bet365?

Bonuses are always welcome at bookmakers, but it is important to mention that when you request it you'll need to complete the rollover. This is the name given to the minimum bets that must be placed before you can request a withdrawal (this is Bet365's protection to avoid players from withdrawing their bonus money right away).
The good news is that Bet365's rollover is the smallest in the market (at least among the trustworthy bookmakers). You must let the bets settle and deposit at odds of 1.20 minimum. Trust me: it's a pretty easy process to do.
That is, if you made a U$S 30 deposit and received a U$S 30 bonus, you must place bets at odds equal to or greater than 1.20 totaling U$S 60 before requesting a withdrawal. On other platforms, this process may require four or five times the total amount which is much more complicated.
Payment methods on Bet365: there's a huge variety
Bet365 has improved a lot recently to provide more agile and convenient payment methods. For those who have been betting there for a few years, you know that before the only way to deposit was through digital wallets like Neteller and Skrill.
Nowadays, there are several options for you to withdraw and deposit at Bet365. Take a loot at the main ones below:
Bank transfer
Credit card
Debit card
AstroPay Card
A positive point that draws our attention is that it's not only the large banks that are available for you to deposit on Bet365. There are also other alternatives.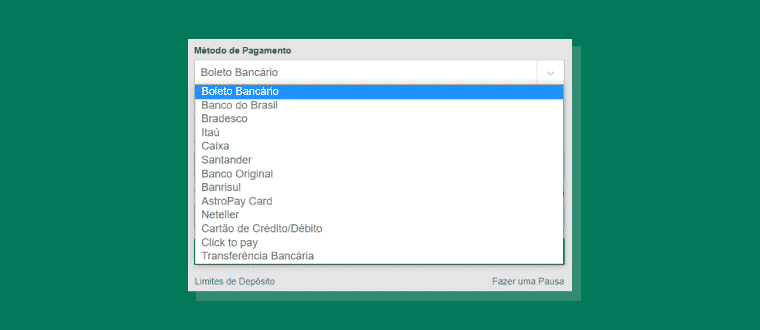 Watch a video where Gabigol teaches you how to deposit on Bet365. You'll find that the process is super simple and credible. Check it out:
Markets offered: a multitude of markets and competitions on Bet365
We know that reviews where praises are constant can seem fake, but this is another aspect that makes Bet365 above average. In fact, maybe it's the platform's biggest differential.
E.g., it's possible to bet on who will score the first goal, what the final score of a match will be, if an own goal will happen over the 90 minutes, in which minute a certain player will score a goal, among others. It's normal that there will be over 100 markets per game for us to explore.
Still getting familiar with sports betting?
The sports betting world can seem confusing to beginners. Thinking about it, Clube da Aposta has created a free course with all the basic content to help you start betting. Click on the button below to register and start learning right now:
How to bet on the most popular markets on Bet365?
Since football is a true passion worldwide, let's show some examples of markets that can be used in your sports investments within Bet365. This way, you'll understand in practice why this is one of the best sports betting platforms available.
Odds Market

The first betting market that can be used on Bet365 is the traditional Odds Market and although it's a really fancy name, it's just the final result of the match. Therefore, we have three possible bets:
Under/Over Market

Talking about the bettings world, since the Odds Market is widely used worldwide we can mention the goals market. It's quite popular and consists of determining whether a match will have "more than" or "less than" a certain amount of goals (Over and Under, respectively).
Now, let's suppose the bets start on 2.5 goals. The ".5" means we have two different endings for the match so if three goals or more are scored, the winning bet is on the Over, while the losing bet is on the Under. If the match has two goals or less, it is the opposite. Pretty simple, right?
Draw No Bet

In some cases, you may be interested in placing a bet that is a little safer than a simple team win. In this case, the Draw No Bet could be a good option.
In case the match ends in a draw, your bet is returned which means you don't lose any bucks from your investment. To lose money, your team needs to be defeated. Of course on the other hand your profit tends to be lower than in the Odds Market where the risk is higher.
Both Teams To Score

Other goal market that can be used in your football bettings is called Both Teams To Score. The abbreviation BTTS is also very common.
As you can see, the way this market works is extremely simple. Bets are on "yes" or "no" for both teams to score goals.
Corner Kick Market

A market that has gained considerable attention among bettors is the corners market. It works just like the goal market, but it's applied to the number of corners in a match.
The main difference is that there are also bets on the exact number of corners in a match. Of course, this is a very difficult bet to hit, but it's still a possibility for those looking to skyrocket their profits on Bet365.
Watch a video about how this market that has becoming more and more popular among bettors works:
Asian Handicap

Last but not least, we still have the Asian Handicap market. It puts a goal advantage or disadvantage so there's no draw, balancing the odds of a match as you can see in the previous image.
It's also the most popular market among professional bettors. However, as it has a higher learning curve it's difficult to describe it in a few lines. So, if you are interested in it, I recommend reading our full article on Asian Handicap.
And which are the sports available to bet on?

A quick visit to Bet365's website speaks for itself. Even though most of the bets placed worldwide are on football, they still offer many options. If you were playing cards for a long time in any pub the chances are good that they'd create a market just so that others could bet on that event.
So if you're demanding when it comes to have lots of options, you can benefit a lot from having a Bet365 account. From cycling to Greyhound racing, we get the impression that they do offer the most relevant sports to bettors.
Bet365 rules: how do you know how each market will work?
From time to time you may have questions about how Bet365's rules work. After all, the platform isn't obliged to follow the same criteria as other bookmakers. This type of problem can be solved by using the Bet365 rules channel.
To access the company rules you must follow these steps:
Click on "Help" in the upper right corner of your screen.
Find "Sports" in the pop up that just opened.
Select "Rules" to find Bet365 rules.
Right below we highlighted the steps you must follow to get on the page. From there, you'll find the sports are in alphabetical order. Just select the one you're looking for and check all the Bet365 rules for each one of them.

Bet365 Odds: competitive but far from being the best

Well, this is finally one of Bet365's weakest points. Although it does have attractive odds, it can't beat Pinnacle and other Asian bookies. Even Betfair with its commission offers better quotes.
The fact is that Bet365's predictive and statistical models are one of the best out there therefore their confidence in this system is so high that they are able to offer good quotes and still maintain their profits margin.
However, always keep an eye out. Bet365 is constantly on the lookout for abuses such as duplicate accounts and users who combine bets on the same match to cover all outcomes. If you use Bet365 correctly the chances are you'll have good profits.
Do you need help to estimate your bets?
Sports betting requires a lot of math that can be really boring to do manually. That's why we've created a bet calculator to make your control easier. Calculate odds, ROI and more:
Costumer Service: good, but somewhat bureaucratic

Bet365 service isn't bad. This deserves to be mentioned since you have a 24-hour chat to answer your questions. However, I still think it could be better at resolving conflicts.
They show little flexibility in dealing with customers' issues and rely heavily on the bureaucracy of their own rules, terms and conditions. Therefore, on several occasions you'll feel that you are talking to a wall due to the typical objectivity of this kind of service.
I already had a bonus removed from my account due to confusing terms and conditions and I was left empty handed. As much as I argued it was useless so don't expect them to be by your side when any complications appear.
Good news is that this is a regulated and supervised betting website in a way that we have resources to act in case we don't reach a fair agreement for both parties.
Bet365 phone: can I call the company?
For those bettors who like to talk in person with the company, we have good and bad news. The bad news is that Bet365 doesn't openly provide their helpline. However, as we've seen, the company makes it really easy to use its online chat.
But if the chat isn't enough to solve the issue we're having then we can request a call to its service team. This call usually is made within 24 hours.
Even if you'd still like to have the opportunity to phone Bet365 keep in mind that the company is based in the UK, causing the call to be quite expensive, so we recommend that you try going the traditional way by using the online chat.
Tools and Differentials: great resources available for Bet365 bettors
In addition to all the technical criteria that we've talked about throughout this article, Bet365 also has a number of great resources for bettors. We're going to present the two I think are among the most attractive: the streaming service and the bet builder tool.
Bet365 live streaming: a free streaming service to watch the matches live

The main feature that catches the attention of both bettors and sports fans is the huge amount of events and championships available to watch live on its website.
If you want to have an idea of the quality of the streams offered by Bet365, just know that several professional traders use its live streaming to follow the matches with the least delay possible.
As previously mentioned, even if you're not a bettor, you certainly know how difficult it can be to find safe links on the internet to keep up with your favorite sport. You can have access to live streaming in a few clicks just by having an active account on Bet365 with any balance on it.
Did you like the news? So we have something to make it even better: a video to help you learn how to use this amazing tool:
Create your Bet365 account to access the streaming service!
Bet365 offers one of the best streaming services on the internet with different leagues and sports available. In order to have access to all this content, you just need a penny in your account! Use the button below to create your account on the platform. Don't worry: Bet365 is a trustworthy bookmaker:
Which championships can I watch live on Bet365?
Now that you've already learned how to use Bet365 live streaming (which is as incredible as it sounds, way better than a lot of professional services), check out a list of championships available to watch and bet on:
| Championship | Available? | Do you want to watch? |
| --- | --- | --- |
| AFC Cup | | Watch now |
| Argentina Primera Division | | Watch now |
| Austria Bundesliga | | Watch now |
| Austria Erste Liga | | Watch now |
| Beach Soccer *IMG* | | |
| Belgium Pro League | | Watch now |
| Campeonato Brasileiro | | |
| Chile Primera Division | | Watch now |
| China Super League | | Watch now |
| CONCACAF Champions League | | |
| Copa Argentina | | |
| Copa do Brasil | | |
| Copa Sudamericana | | |
| Croatia 1. HNL | | Watch now |
| Czech League | | |
| Czech Cup | | |
| Czech U21 League | | |
| Denmark Superliga | | Watch now |
| Denmark Division 1 | | Watch now |
| Ecuador Primera A | | |
| England Championship *Perform* | | Watch now |
| England Championship *IMG* | | |
| England League 1 | | |
| England League Cup *Perform* (Capital One Cup) | | Watch now |
| England League Cup *IMG* (Capital One Cup) | | |
| FA Cup | | Watch now |
| Finland Veikkausliiga | | Watch now |
| France Ligue 1 | | Watch now |
| France Ligue 2 | | |
| Germany Bundesliga | | Watch now |
| Germany Bundesliga 2 | | Watch now |
| Germany DFB Pokal | | Watch now |
| Greece Super League | | Watch now |
| Holland Eredivisie | | Watch now |
| Holland Jupiler League | | Watch now |
| Iceland Cup | | Watch now |
| Iceland Urvalsdeild | | Watch now |
| Israel Ligat Ha'Al | | Watch now |
| Italy Serie A | | Watch now |
| Japan J1 League | | Watch now |
| Japan J2 League | | Watch now |
| Korea K League | | Watch now |
| Latvia Virsliga | | Watch now |
| Mexico Liga MX | | Watch now |
| MLS | | Watch now |
| Norway Division 1 | | Watch now |
| Norway Elitserien | | Watch now |
| Paraguay Professional Division | | |
| Peru Primera Division | | |
| Poland Ekstraklasa | | |
| Portugal Primeira Liga | | Watch now |
| Portugal Segunda Liga | | Watch now |
| Romania Cup | | |
| Russia Premier League | | |
| Russia Division 1 (FNL) | | Watch now |
| Scotland Premier League | | |
| Scotland Professional League | | |
| Serbia Super Liga | | Watch now |
| Slovenia Prva Liga | | Watch now |
| South Korea K-League Classic | | Watch now |
| Spain Primera Liga | | Watch now |
| Spain Liga Adelante | | Watch now |
| Sweden Allsvenskan | | |
| Switzerland Super League | | Watch now |
| Switzerland Challenge League | | Watch now |
| Switzerland Schweizer Pokal | | Watch now |
| Turkey Super Lig | | Watch now |
| Ukraine Premier League *UNAS* | | |
| Ukraine Premier League *IMG* | | |
| Venezuela Primera Division | | |
| World Football *IMG* | | |
About Bet365 streaming
Live streams have geo-restrictions so some games may or may not be available depending on your location. Remember that you must have an active account with any balance on it or have placed a bet within the last 24 hours.
Bet Builder Bet365: building your own bets
Another feature worth exploring on Bet365 is its Bet Builder. With this tool, you can create and customize your own bets with incredible convenience. Check right below that this is one of the menus offered in the markets.

On Bet Builder, you have full control of your bets. This includes choosing markets, positions and lines. It's also possible to mix different bets in the same match thus getting more attractive odds. If you are interested in the tool, watch this other video where we explain the logic behind this resource:
Limitation: Bet365 is famous for limiting users
Finally, we cannot ignore one of Bet365's biggest problems: limitation. This is a betting website classified as recreational and therefore the company reserves the right to prevent profitable bettors from placing high stakes (something that would cause great financial loss to the bookmaker).
However, there are some conditions. First, the limiting process requires profitability which means you need to be an expert for this process to affect you. So if you're just starting out, this isn't an issue to take into account.
Furthermore, there are some ways that prevent (or at least delay) the fact that you have limitations to bet on Bet365. If that's something you're worried about the following video can help you:
I was restricted on Bet365! What should I do?
In case you happen to be restricted take it as a great sign: Bet365 understands that you have great potential for betting. So what should you do in this situation? Search for a professional betting site. Here we can mention Pinnacle, a bookie known for not limiting its users.
Join Pinnacle and start betting without limitations
Pinnacle is one of the professional bettors' favorite bookmakers. Besides having the best odds in the market, it doesn't limit its users. You can create your account using the button below.

What are Bet365's pros?

After reading our review of Bet365 and learning about all these points, maybe you've already identified several pros of this bookmaker, right?
The main one is game coverage. The variety of sports and championships on this platform is impressive and it opens new markets for you to bet on. Even lower divisions matches appear very often.
Moreover, some markets are almost exclusive. This is the case of the corner kick market (corner betting) that has become a fever among our bettors. There are just a few websites offering this market at least at the time this article was produced.
Do you want to start betting on Bet365?

Our review was a little big, wasn't it? But when it comes to trusting your money on a website, it's important that you know every detail to make the best decision.
Despite the unattractive website at first glance and its quite unflexible support, they offer plenty of market and sports options as well as having a great deal of bonuses! Not to mention Bet365's streaming service that will make you maintain your account there for years even if it's just to watch the matches.
Before saying goodbye, I'd like to invite you to rate the betting site and leave your thoughts on Bet365 in the comments area below. Also don't miss the opportunity to take advantage of the bonuses they offer and create your account right now! Just click on the banner below and start betting:

Keeping up with Bet365's terms and conditions
New users: up to U$S 30 in bet credits​​
Cash out excludes bet credits
T&C, time limits and exclusions apply
Frequently Asked Questions about Bet365
Over the more than 10 years of Clube da Aposta in the field, we've received countless questions about Bet365. We've organized the main ones below to help you with your doubts. To view the answer, just click on the question you have.
Written by
Hi there! You can call me Beto! I'm 32 years old, graduated in Business Management and now I'm doing my second degree in Statistics and Data Science, which is really helpful to bring the Machine Learning models applied in sports betting that you see here. Even though I'm in this betting world since 2010, there's still a lot to be learned.
> Check other content created by Humberto Alves