Betfair is more than just a bookmaker: it's the largest sports exchange in the world. This means that just like in the Stock Exchange, you can trade your bets in real time and that's what makes it so attractive to most bettors.
Given this scenario, we can say that no betting site stands out in the area as Betfair. It's a true reference in our market and, even if you act as a punter, it's essential to understand the dynamics of a sports exchange.
Throughout this article, we are going to bring you a complete review on Betfair so that you can understand why it's so important to us bettors and also know how to bet on this betting site. Shall we start?
Create yout account to bet on Betfair
Betfair is the largest sports exchange in the world. If you like live betting and would like to have the opportunity to profit without depending on the outcome of the match, this could be a good bookmaker for you. Click on the button below to join the platform:
How to bet on Betfair?
As we've said before, Betfair is a sports exchange which means that you have the opportunity to trade your bets with other bettors (instead of investing against the bookmaker itself). This happens through back bets and lay bets and it's called sports trading.
Sports trading is a "Betting Stock Exchange": an environment where you trade your bets in real time, you can also open and close positions how many times you want during a football match. This makes it possible to profit without depending on the final result of a match unlike traditional betting.
Today, our intention isn't to explain in detail how Betfair works but you can check out all the logic behind sports exchanges in our illustrated sports trading guide. Also, feel free to take a look at our "Introduction to Sport Trading" free course.
Do you want to learn more about sports trading?
Since 2010, Clube da Aposta has been focused on one task: educating bettors. In our members' area we have a free course, produced by our professional traders, on how sports trading works. Don't waste time and access the classes right now to start learning about one of the fastest growing betting method worldwide:
Besides that, by using the resources and functionalities of the sports exchange it's also possible to apply the system to profit without risk with the welcome bonuses from other bookmakers.
What's cashout on Betfair?
Betfair's big differential is its system that allows you to end bets: the cashout. It's not unreasonable to say that it was Betfair who launched to the betting market the feature of ending bets that is also available on traditional websites today.
It makes it possible to withdraw your bet, being an excellent option when a bet that seemed like a winning one becomes riskier. It guarantees that you'll exit the bet with profit. Even though you win less by using it, you can also use it to close a bet when it's being lost, decreasing your loss.
Create your account to bet on Betfair
Betfair is the largest sports exchange in the world. If you like live betting and would like to have the opportunity to profit without depending on the outcome of the match, this could be a good bookmaker for you.
Betfair even allows you to automatically close your bet with one click. Check below an example of the usage of this tool:

And what would it mean to end this bet in favor of Universitario? Well, we still have eight minutes to play and that means I still have the risk of losing my investment. So with the cashout function available we'd have two options in this scenario:
Keep the bet and expect a profit of €28 at the end of the match;

Choose cashout and exit now with a guaranteed profit of €4.91.
Is Betfair trustworthy?
Betfair is among the most trusted bookies in the market and it has an A rating on the SBR (Sportsbook Review), the leading authority on the legitimacy of a bookmaker.
Betfair is respected and admired by the vast majority of bettors. The experience is usually very pleasant at this bookmaker. It's obvious that like any company it's not free from criticism and problems that, in general, tend to be solved in the best possible way.
Among the reasons we trust Betfair are its time in the market (more than 20 years in business), its headquarters in the UK (which has one of the strictest bookmakers inspection systems) rather than in tax havens, and also its investments in security and marketing. Remember that Betfair has sponsored major internationally known football teams such as Barcelona and Juventus.
Clube da Aposta recommends Betfair
We really trust Betfair. It's the largest betting exchange in the world with millions of users. In this article, you'll read our full review on the Betfair website. Also don't miss the opportunity to create your account by clicking the button below. The site will open in a new tab and your reading won't be interrupted:
Our full review on Betfair
The review made by Clube da Aposta explores the main items considered by bettors when deciding on their betting site. They are:
Navigation
Bonuses and Promotions
Payment methods
Markets offered
Odds
Customer Service
Tools and Differentials
Limitation
Throughout the text, we'll cover in detail the positive and negative aspects of this betting site. Don't worry: you don't have to read everything to keep up with it. We organized it in topics so you can focus on what interests you most. =)
Let's go!
Betfair's navigation scares beginners
So let's start by talking about Betfair's navigation which, let's face it, is not at all user-friendly for sports betting beginners.
First, it's important to know that Betfair also has its traditional betting area (Sportsbook) as well as its sports exchange area (Exchange). Those who don't know the platform may end up getting confused. You need to pay attention to the menu to avoid mistakes.

Also, when choosing Exchange mode, you'll come across a screen like this:
Let's be honest: this bunch of numbers is scary to anyone, even those who already know sports betting. However, once you understand the dynamics of Betfair, you'll soon master what it all means. The blue odds represent back bets and the pink odds represent lay bets. The learning curve, however, is certainly longer.
It's also worth mentioning that for the experienced sports trader, Betfair's navigation isn't so important because the operations can be done by specialized software, obtaining greater stability and agility in your bets. Therefore, the tendency is for you to stop using the website in the long run.
How to find matches on Betfair?
After the confusion at first and when you understand that the lay bets on Betfair is one of the things that makes it so special, you quickly get used to its very clean layout. You'll then have a high agility when navigating the website.
The match filter is also very intuitive. You start by selecting the sport you want and then you have all the competitions available to select your matches. Highlights will appear in the center of your screen. Take a look below an example of a filter for the Brazilian Championship.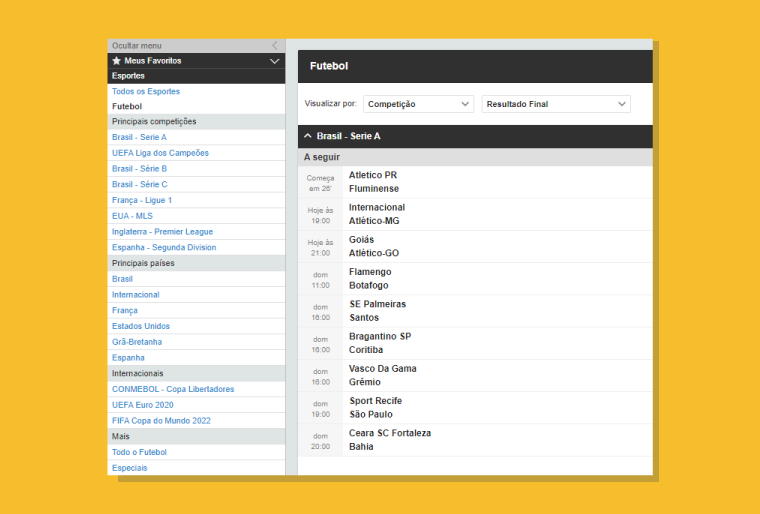 The search field at the top works really well too. When typing part of the name of the team you are looking for, the available options will appear so you can select which match you want to bet on.
Placing a bet is also quite simple on the sports exchange: as soon as you click on an odd the platform will open a similar pop-up to the one you are seeing below. Just fill in the desired investment amount and confirm your bet.

Live betting on Betfair is the highlight of this sports exchange
After adapting to the initial chaos, it's very easy to navigate on Betfair. You quickly find the match you're interested in and discover others you didn't even know were happening without much effort. Not to mention that you can check out the different markets that Betfair offers to bet at a glance.
For all the features that we've already highlighted, it's natural that the focus of Betfair's users are on Live. That is, live betting while the match takes place in real time. The odds update every second and the platform offers some interesting stats.
It's nothing too advanced but certainly the data is useful, e.g.:
Goal average;
Chances of a team being the first to score;
Result of the last matches against the same opponent;
Performance in recent matches and who are the players on the field;
Filter number by time range.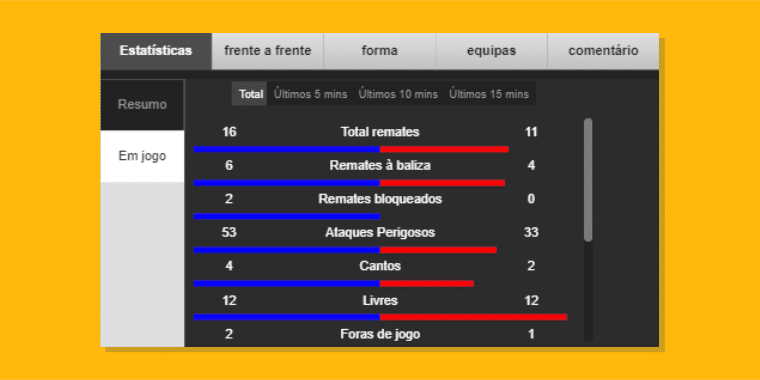 Betfair betting history has a different dynamic
If you like to follow the results of your bets, you'll certainly want to consult your account statement. However, at Betfair each click is considered to be an operation. In other words, the statement is not user-friendly at all, even for the most experienced traders. Check it out:

So maybe you should use for the betting history filter that can be found on the menu "my account" and then select the option "profit and loss on bets". Then just select the desired period to check the summary of your results.

The pro of this option is that it already makes a sum of all the bets made in the chosen period, showing the real profit or loss obtained with the matches making it a much more practical way to track your bets on Betfair.
Betfair Mobile: accessing the sports exchange on a cell phone

Last but not least, it's worth mentioning that Betfair offers an application for you to bet from your mobile phone. It allows greater flexibility for sports trading as you can invest in football games without being in front of your computer.
The app can be downloaded from Betfair's website. You need to choose the right version, as the company offers two different models: an app for betting on sports (Sportsbook) and another app for sports exchange.
Just remember that the your data doesn't vary between the original platform and the application. Your login and password details remain the same, OK?
Bonuses and promotions are focused on new users

Betfair has a very different dynamic among betting sites. Therefore, it's not possible to say that it's a bookie where you'll find a good deal on promotions. It's far from it actually: their actions are unattractive for those who use the Exchange version of the site.
On the other hand, it doesn't mean that nothing is offered. The traditional welcome bonus, for example, is quite interesting. It allows you to receive up to R$200 on your first deposit. There are offers with "super quotes" as well. Let's learn about them.
How does the welcome bonus work on Betfair?
Betfair's bonus for new accounts was once a little different, but today it's very similar to what other betting sites offer. That is, you have a 100% deposit bonus, limited to a maximum amount of $30.
It's important to mention that this offer grants the free bet bonus. You'll receive the amount, but it's in a "separate" account, allowing you to track all bets.
If you want to receive the same free bets amount as your deposit on Betfair, these were the steps until the last time we reviewed this article:
Create an account and enter the ZBI200 bonus code;
Make your first deposit (up to $30);
Receive $30 in free bets;
The bonus has a rollover of the total amount (deposit + bonus);
The deadline for compliance is 60 days;
After completing the rollover, you can withdraw the money whenever you want.
Remember that the conditions can change at any time without any prior notice from the platform. If you liked the offer, we recommend that you use it as soon as possible and always read all the terms before participating.
Create your account to claim the Betfair bonus
Betfair offers a lot in free bets for new users. It's a great way to get started on the biggest sports exchange in the world with a great balance. To participate, create your account using the button below:
Special promotions for new users
Besides the welcome bonus, Betfair has been offering promotions with super odds since 2020 to attract new users. Take a look at an example below offered for Grenal (the Brazilian rivalry Grêmio x Internacional) with odds @24.0 on Internacional winning the match.

Offers are limited to new users and cannot be made with more than a certain amount depending on the country. For beginners, it's a great way to leverage your capital for trading. However, it works much more as a welcome bonus than a special offer for its users.
There are other offers that can be accessed through the website promotions menu. Particularly speaking, the ones listed don't really catch my attention. This demonstrates how Betfair is not the best bookmaker for those who enjoy promotions as a differentiator.
Another point that is worth mentioning is that these offers are all applied on your Sportsbook, the area for traditional betting on the site. It's not a special action for sports trading.
Great payment methods on Betfair
Do you want to learn more about sports trading?
Clube da Aposta has been in the market for over 10 years and offers a lot of free content for you to learn about sports trading. One of them is the "Introduction to Sports Trading" course. Click on the button below to register and start learning right now:
There are several ways to deposit on and withdraw from Betfair, among them we can highlight:
Bank transfer
E-wallet
AstroPay Card
The method we recommend not just for Betfair but for all betting sites is to use digital wallets like Neteller and EcoPayz. The reason is simple: they represent the most practical way to transfer your resources to the sports exchange (and the other way around). Aside from the increased agility there are no fees.
Anyway, you can also use other methods like capital transfer requests directly from your bank.
Note: each method will ask for different deposit information. The terms and costs also vary.
How to deposit on Betfair?
To deposit on Betfair, you simply go to 'Deposit' in the upper right corner of the screen. Then click on alternative methods, select your preference and enter the requested data to proceed with the process. Below, we show how we selected a method:

How to withdrawal from Betfair?
To withdrawal is also super easy! Just go to your account, withdraw funds and choose the method to receive your money. As a rule, it can take a few hours/day for you to receive the money but usually within a day it'll happen.
A thingto pay attention to is that, for security reasons, Betfair often requires withdrawals to be made in the same way the money was sent.
Markets are restricted but there's a wide variety of sports
When it comes to the markets, it's essential to be aware of one detail: we bet against other people (not Betfair) on the Exchange mode. What does this mean in practice? That the markets end up getting restricted as they depend on liquidity, that is, we're talking the amount of money in a game.
That point being understood, we need to separate our review into two steps. The first is that yes, the sports exchange offers many markets. They don't even come close to recreational betting bookmakers, but they're quite diverse. Here are some examples:
Odds (1×2)
Over/Under goals
Correct Score
Next goal
Partial result
And many others!
The thing is that despite this good diversity, most of them receive a very low volume of bets. Thus, it's really hard placing bets and moving our positions. In this case, it becomes more difficult to work on sports trading strategies.
On the other hand, it should also be noted that Betfair is the largest sports exchange in the world. Therefore, it doesn't lack in terms of liquidity: you'll hardly see a match of the main championships and won't be able to have your bet matched at the available odds.
Which markets have liquidity on Betfair?
In practice, thinking about football the biggest focus is on the first three markets on our list: Odds, Over/Under and Correct Score. They're more popular and, consequently, concentrate the investments of the platform bettors.
In other sports such as tennis, we basically have Moneyline as an opportunity (which is the name of the Odds Market in this sport). Below is a great example of this scenario in the match between Thiem vs. Johnson. The main market had more than one million dollars while the secondary markets, combined, didn't reach ten thousand dollars.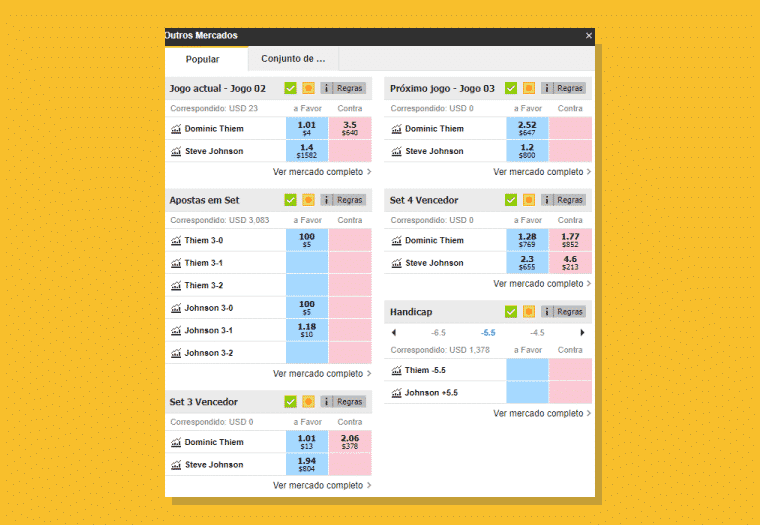 Which are the sports available for trading on Betfair?
In terms of sports, Betfair delivers great options to its users. Besides football and tennis, it's possible to trade in horses, basketball, e-sports, among others. The lower the popularity of the sport, however, the harder it's to find liquidity in the markets.
In addition, Betfair is always on the lookout for new opportunities to allow investments from its users. This is the case with the entertainment industry that now has markets reality shows.
This new scenario even includes betting on politics. You read it right: it's possible to guess even who wins the presidential elections in the United States. In 2020, this market surpassed $300 million wagered. Check it yourself:

Betfair offers the best odds in the market

This is almost not open to discussion: Betfair usually has higher odds than other bookmakers, something that can be proven at any time by opening other sites to compare it. Most odds seekers confirm this by the bookie API.
There isn't any magic about it. What happens is that Betfair's business model is different from its competitors who only offer traditional betting. The company's profit doesn't come from losing bets but rather from a percentage charge on winning bets. It's called Betfair's commission.
As the bookie wins along with winning bets, it doesn't need to embed its profit margin in game odds. Thus, it's able to offer the best odds in the market.
However, it must be clear that the commission charged is not so low. It usually starts at 6.5% but can drop as you use the platform. Therefore, for a fair comparison you should always check the "real odds" of the platform (minus the commission).
A back bet on a team at @2.00, for example, would represent an actual odd of @1.93. That's because if you hit your bet, you have to pay the commission. Never forget to consider this detail when comparing Betfair odds with other betting sites that don't have this commission.
Comparing Betfair odds
In order to understand better how to compare Betfair odds in practice, I decided to bring a real example for a Brazilian Championship Serie A fixture. First, let's analyse the odds that were offered by Bet365 for four matches of the 33rd fixture: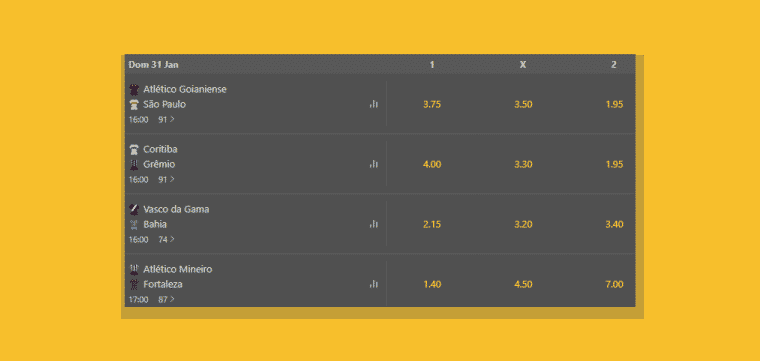 Now, let's look at the same fixture offered by Betfair. Right off the bat you'll already notice a basic rule: the sports exchange odds beat all odds from Bet365 which, although it's not a reference when it comes to odds, it's a great bookmaker.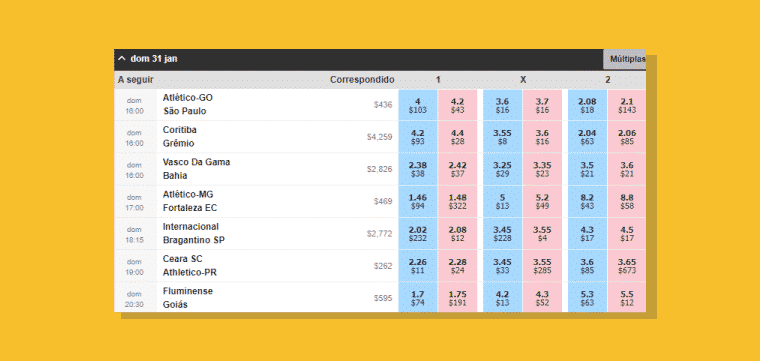 However, as you already know, Betfair odds have the "hidden" commission. So, we need to get rid of it. Let's suppose you decide to bet on favorites. Let's go to the results of the "real" odds of the sports exchange:
São Paulo: @2,01 (6% higher than the @1.95 odds offered on Bet365)
Grêmio: @1.97 (2% higher than the @1.95 odds offered on Bet365)
Vasco da Gama: @2.29 (14% higher than the @2.15 odds offered on Bet365)
Atlético-MG: @1.43 (3% higher than the @1.40 odds offered on Bet365)
Notice that even if there's a commission charge, Betfair's odds are still better than Bet365's. And this scenario is very alike in most betting sites: the odds offered will only lose against the ones on professional bookmakers, such as Pinnacle.
The support is fast, but it's been lacking something
For a long time, Betfair's support was amazing. We ran several tests including requests via chat during a Sunday night and we were helped right away, no line, no waiting!
However, in recent months, several users have been reporting difficulties in solving problems. Quick and personalized answers with excellent explanations are becoming technical and bureaucratic assistance.
So I understand that there's been a significant downgrade in Betfair's support, which doesn't mean that it's the worst among betting sites. The service via chat and email is still working but requires urgent improvements.
I hope we can improve our support rating in our next review update. For now, follow the platform rules and keep your documentation up to date to avoid problems such as the suspension of your account.
Tips to avoid your account from being blocked

A relatively common problem faced by Betfair users is account blocking. However, if you follow the platform's rules, there's not much to worry about.
Most blocked users commit some infraction against what is required by the website's rules. Therefore, we recommend that you carefully read the bookie's terms and regulations to avoid problems. Below, we list some of the actions that usually cause restrictions:
The use of VPN to change the location of your access
The use of accounts without owning them (documents need to be validated)
Over betting using practice mode
Bets with values lower than the minimum allowed
Don't forget that for all these cases Betfair usually sends an email as an alert in case of non-compliance. If the user persists in doing this, their account is blocked (and rightly so). Watch below a video with some tips to avoid having your user blocked:
Streaming: it's possible to watch live matches on Betfair
Another very cool thing about Betfair is its streaming service, something that allows you to watch the matches while betting. This is a great differential to bet on Live mode as you watch the event without depending on the subjectivity of the statistical data.
The process is quite simple. If you have a Betfair account with a balance to invest, you can already access a good variety of matches and championships available on the platform. Not all of them, but the main ones offer good coverage.
Betfair also provides a radar to follow your football match. It indicates what's happening but with a little delay.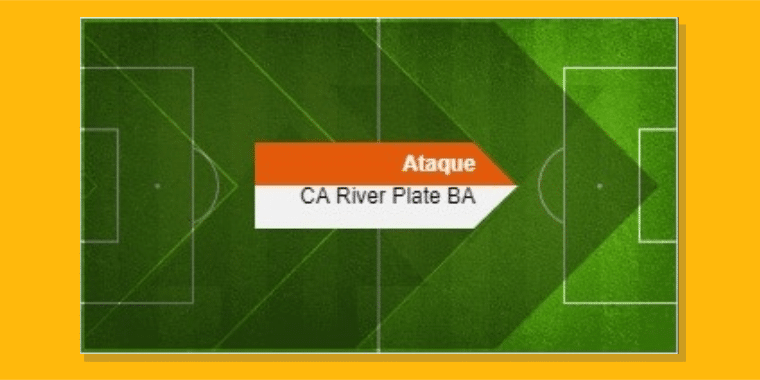 Does Betfair restrict its users?

A common problem our users report on betting sites is limitation. This is the name given to the process where bookies set low limits for profitable bettors. Thus, they protect themselves from losing money when they identify a winning profile.
On Betfair, you're never limited while using the Exchange mode on the platform. As aforementioned, Betfair's business model is based on winning bets. It wouldn't make any sense to limit users' bets as this would represent that the company would limit its own profit.
Now, if you use the traditional betting area (Sportsbook), the limitation can happen. Anyway, since we recommended the Exchange mode, I believe you won't have problems with this on the platform.
Start betting on Betfair now!
Phew! We've reached the end of our Betfair review. It was quite long but the idea was to bring as much detail as possible so that you can identify whether or not this is a good bookmaker for your profile.
As we've learned, the sports exchange is an excellent tool for all types of bettors. It allows you to explore specific moments in a game, reverse positions and even profit without depending on the final result of the match. Not to mention the odds that are extremely competitive in every sports betting scenario.
Therefore, we invite you to create your Betfair account and enjoy the welcome bonus to start off on the right foot in sports trading. I'm sure that this betting model will conquer a space in your betting routine.
And you? Did you already know Betfair? Do you want to share your experiences on this sports exchange? Our comments area just below this article is waiting for your participation. And remember: having a Betfair account is almost mandatory for any bettor profile.

Frequently Asked Questions about Betfair
Below, we've listed some of the most common questions asked by Clube da Aposta users about Betfair. It might be a question you have too. Just click on the question to view the answer.
Written by
Hi there! You can call me Beto! I'm 32 years old, graduated in Business Management and now I'm doing my second degree in Statistics and Data Science, which is really helpful to bring the Machine Learning models applied in sports betting that you see here. Even though I'm in this betting world since 2010, there's still a lot to be learned.
> Check other content created by Humberto Alves